SOLD OUT
(Harvard Section of blocked seats sold out)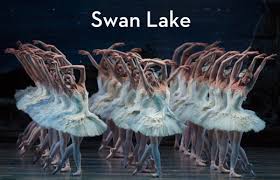 Houston Ballet presents the return of Artistic Director Stanton Welch's Swan Lake in one of the world's
most beloved ballets; the everlasting love between Prince Siegfried and the maiden turned swan, Odette
is tested by the evil knight Rothbart and his black swan enchantress Odile!
Music by Tchaikovsky & Choreographed by Stanton Welch


Join fellow Harvard alumni on Thursday evening, June 28th at the iconic classical ballet Swan Lake. The Harvard University Club of Houston reserved a block of some of the best orchestra seats in Jones Hall at a 25% discounted rate. The seats in our block are now sold out. All the seats in the Harvard block are excellent because we purchased them so early (orchestra section above pit, rows L&K center). The seats will be assigned on a first come, first served basis so reserve early for the best of the best seats! Once the block of seats is sold out, you can email us at HClubHouston@att.net and be placed on a wait-list and we'll notify you if there are any cancellations.


It is recommended you arrive early to allow time to park and get seated before the performance begins at 7:30. There is no late seating.
SWAN LAKE
Thursday, June 28, 2018
7:30 PM (no late seating)
LOCATION
Jones Hall
613 Louisiana Street
Houston, Texas 77002
(713) 535-3258

Seat Location for Harvard Group/Block
Orchestra Side (section above the pit, Rows L&K - center)

REGISTRATION - now sold out
$29.25 - Harvard University Club of Houston Members


If you have any questions or concerns, or need assistance with the on-line registration process, contact Maureen Garnett at HClubHouston@att.net.

---
---
'DO YOU STILL NEED TO RENEW YOUR HARVARD CLUB MEMBERSHIP?'
If you want to check your membership status, email your inquiry to Maureen Garnett at HClubHouston@att.net

The Club is only as good as its members: click 'HERE' and join us today and your membership benefits begin immediately.
For questions or assistance, contact Maureen Garnett at HClubHouston@att.net