Lecture | History of Indigenous Colombian Art and Culture
.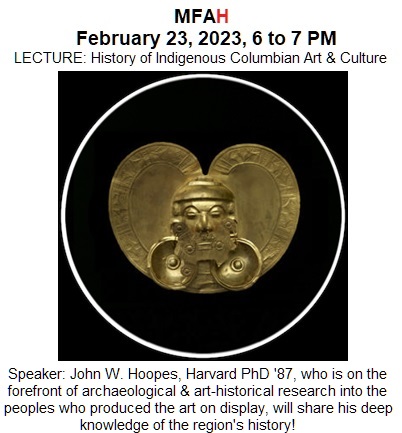 This program takes place in Brown Auditorium Theater, with seating on a first-come, first-served basis. There is NO CHARGE to attend.

Caroline Wiess Law Building
1001 Bissonnet St.
Houston, TX 77005
713-639-7300
Ruth K. Shartle Lecture Series
The exhibition Golden Worlds: The Portable Universe of Indigenous Colombia explores the history of Indigenous Colombian art and culture. In this lecture, John W. Hoopes, who is on the forefront of archaeological and art-historical research into the peoples who produced the art on display, shares his deep knowledge of the region's history. The discussion is introduced by Rex Koontz, consulting curator for art of the Indigenous Americas at the MFAH.
About the Speaker
John W. Hoopes, a professor in the department of anthropology at the University of Kansas, received his PhD from Harvard University in 1987 with a dissertation on the earliest pottery-producing cultures in the Americas. He has served as co-editor of several books, including Gold and Power in Ancient Costa Rica, Panama, and Colombia.
Additional cetails can be found at the link below:
https://www.mfah.org/calendar/history-indigenous-colombian-art-culture
ENJOY