.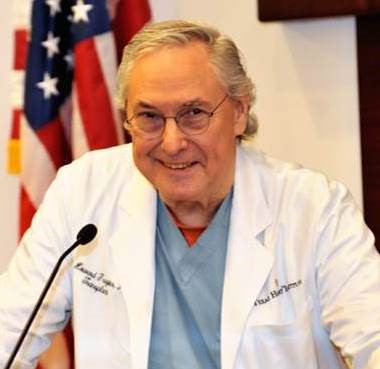 Meet Dr. O.H. Frazier
UPDATE - This event has been changed to 100% virtual!
An electronic invoice will be sent via email, and attendee will be added to list upon payment.








Please join our friends at the HBS Club for a special event on February 9th at the Briar Club in Houston, Texas from 11:30 pm to 1:00 pm. The Harvard Business School Club of Houston's Executive Speaker Series will be featuring Dr. O.H. "Bud" Frazier, M.D., Chief of the Center for Cardiac Support, Director of Cardiovascular Surgery Research at the Texas Heart Institute, and former Chief of Transplant Service at CHI Baylor St. Luke's Medical Center. For more than 40 years, Dr. Frazier has been a pioneer in the treatment of severe heart failure and in the fields of heart transplantation and artificial devices that may be used either to substitute for or to assist the pumping action of the human heart. As a result of his work, Baylor College of Medicine, Baylor St. Luke's Medical Center, and the Texas Heart Institute have emerged as one of the top transplantation and mechanical circulatory support programs world-wide. Dr. Frazier has performed over 1,300 heart transplants and implanted more than 1,000 ventricular assist devices, more than any other surgeon in the world.

Ticket price for HUC members is $45 and $55 for their guests. Email Kelly Huff for tickets.
Join us for a distinctive Houston story of innovation and entrepreneurship. Learn about the fascinating world of artificial hearts and the tireless surgeon who won't give up trying to innovate!
Date and Time
Tuesday, February 9th
11:30 am - 1:00 pm

Location: The Briar Club

Tickets
HUCH club members: $45
Guests tickets: $55
To purchase a ticket, please email HBS admin Kelly Huff at clubadmin@hbsclubhouston.com. An electronic invoice will be sent via email, and attendee will be added to list upon payment.
_____________________________________________________________
MORE ON DR. FRAZIER
Dr. O.H. "Bud" Frazier, M.D.
Chief of the Center for Cardiac Support
Director of Cardiovascular Surgery, Texas Heart Institute

Dr. Frazier's academic appointments include professor of Surgery at the University of Texas Health Science Center in Houston, clinical professor of Surgery at the University of Texas M.D. Anderson Cancer Center, and tenured professor at Baylor College of Medicine in Houston. Dr. Frazier graduated from the University of Texas-Austin and received his medical degree from Baylor College of Medicine, where he received the DeBakey Award for Outstanding Surgical Student. He served in the Army between 1968 and 1970 and distinguished himself as a flight surgeon in the U.S. Army 48th Assault Helicopter Company in Vietnam. After his military service, he returned to Houston and completed his specialty training in general surgery under Dr. Michael E. DeBakey at Baylor Affiliated Hospitals and a residency in thoracic and cardiovascular surgery under Dr. Denton A. Cooley at the Texas Heart Institute.
His interest in mechanical circulatory support began in 1969, when, as a student at Baylor College of Medicine, he wrote a research paper about the experimental total artificial heart, which was first implanted in 1969 by Dr. Denton Cooley. Throughout the 1970s and 1980s, Dr. Frazier continued experimental work toward developing an implantable left ventricular assist device (LVAD). Among his "firsts", in 1986, Dr. Frazier performed the first implantation of such a device, the HeartMate I, in a human. After more than 10 years of research, in 2000, he performed the first human implantation of the Jarvik 2000 LVAD (also a continuous flow pump). In November 2003, he implanted the first HeartMate II LVAD in a patient. In 2011, Dr. Frazier implanted the first successful continuous-flow total artificial heart, using two ventricular assist devices working in tandem to replace the patient's failing heart. More significantly, Dr. Frazier's pioneering work in the field of circulatory support has resulted in more that 45,000 LVADs being implanted in patients worldwide as a life-saving effort; the design of most of these devices having been conceived and / or developed in Dr. Frazier's THI laboratory. Dr. Frazier's work continues as his goal of a meaningful and practical total artificial heart replacement is on the horizon.
Dr. Frazier has received numerous honors, including the Living Legend Award from the World Society of Cardiothoracic Surgeons, the Gift to Mankind Award from the American Organ Transplant Association, the Distinguished Surgeon Award from the Houston Surgical Society, Honored Physician Award from the American Heart Association Guild, the Ray C. Fish Award for Scientific Achievement from the Texas Heart Institute, the Denton A. Cooley Cardiovascular Surgical Society International Recognition Award, the Kauffman Heart Failure Award of Merit from the Cleveland Clinic Foundation, and the Dr. Barney Clark Award from the Medforte Research Foundation in recognition of his pioneering efforts in the clinical advancement of cardiac transplantation and of mechanical circulatory support and replacement devices. Most recently, Dr. Frazier received the Lifetime Achievement Award from the International Society of Heart & Lung Transplantation and the Scientific Achievement Award from the American Association for Thoracic Surgeons.