.
Limited Space - Advance Registration Required.
EVENT IS NOW WAITLIST ONLY - - - FOR TICKETS, EMAIL US AT HCLUBHOUSTON@ATT.NET
THERE WILL BE NO TICKETS SOLD AT THE DOOR.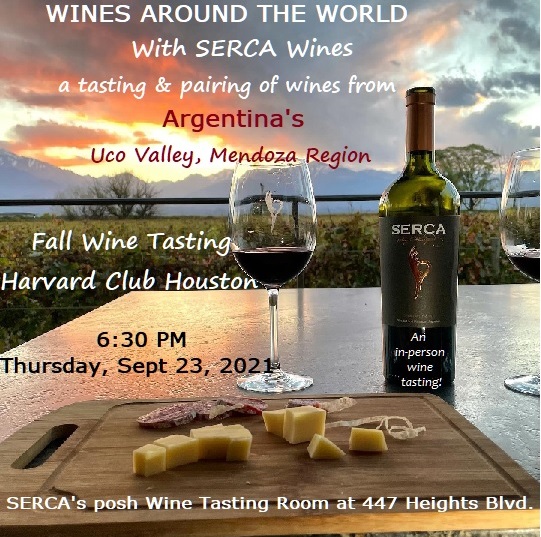 Harvard Club Fall Wine Tasting for All Harvard Alumni
Thursday, September 23, 2021 at 6:30 PM

SERCA Wine Tasting Room
447 Heights Blvd.
Houston, TX 77077
(713) 405-0082

An in-person wine tasting event for Harvard alumni!
Enjoy an Evening of Wine, Conversation and Discovery.

We are excited to announce our next Wines Around the World Wine Tasting - an in-person club event! The Harvard Club's fall wine tasting takes us to the southwest Uco Valley region of Mendoza in Argentina, widely considered one of the top wine regions in all of Argentina. Situated along the Tunuyan River, the Uco Valley is home to the region's most famous wines! You are invited to join us on Thursday, September 23rd at 6:30 PM for and evening of wine, conversation and discovery with SERCA owners Carolina and Sergio Weitzman. We'll meet at SERCA's very stylish tasting room in their historic 1902 Heights restored Victorian house. This is a wonderful networking opportunity and a chance to share small bites and sip on the world's finest wines with fellow Harvard alumni and friends! Plus, you could go home the winner of a fabulous wine basket compliments of HUC! Listed below are the four hand picked wines you will enjoy at the tasting:

2015 Gran Corte (Bordeaux Style Blend, Malbec 56%, Merlot 27.5% & Cabernet Franc 16.5%)
2020 Corte Blanc (Marsanne, Roussanne, Sauvignon Blanc Blend
2018 Cabernet Franc
2015 Malbec Reserva (Super Premium, single vineyard Malbec)

We will continue to practice social distancing and ask that registrants who have not yet been vaccinated, to please wear a mask. Your ticket includes a pass to the in-person wine tasting, where you will enjoy 4 hand picked wines from the Serca collection (see list of wines above). You will also be entered into a Harvard Club raffle wine basket. You must be present to win the raffle. The wine tasting event is limited in space and early registration is strongly encouraged. Once we reach full capacity, we will close registration. Sign up early and you will be greeted at the door with a glass of incredible wine from the Uco Valley!
We are excited to hold our first 2021 in-person wine tasting event and we are looking forward to seeing everyone!

Supporting Harvard Club Members: FREE
(Benefactors, Patrons, Sponsors & Platinum level members)

Harvard Club Members: $65.00 (per person)
(Individual, Family, Recent Grads, & Parents)
The price of your ticket includes a pass to the wine tasting where you will enjoy 4 hand picked wines from Serca collection.

Harvard Alumni - non Club Members: $80.00 (per person)
The price of your ticket includes a pass to the wine tasting, where you will enjoy 4 hand picked wines from Serca collection.

NOTE: Upgrade your club membership to a higher supporting level by September 15th and attend the Harvard fall wine tasting for free. The wine tasting event and wines practically pay for your club upgrade! Why wait? Upgrade your membership to a higher level today - contact us at HClubHouston@att.net and we will do the rest! We expect the SERCA wine tasting event to reach full capacity before the 23rd,. We recommend registering for this event in advance. Full refunds for the Wine Tasting event are given with a 48 hour notice to HClubHouston@att.net.
____________________________________
MORE ON SERCA WINES
Three of their acres, at about 4,000 feet above sea level in the Uco Valley, are where their super-premium malbec grapes grow. Three that are slightly lower in elevation are planted to the super/ultra-premium malbec, merlot and cabernet franc vines that deliver the fruit for their reserve blend, the Gran Corte, which earned 92 points from the Wine Enthusiast for both the 2013 and 2014 vintages.

The current Grand Corte release, the 2015, scored a 91 from the Enthusiast and a 90 from Wine Spectator. It's available for $60 at sercawines.com, where club membership can also be found. Their 2015 Malbec Reserva ($50) received a 90 from Wine Enthusiast. Their other current-release reds include a 2018 Cab Franc ($50), a 2016 Merlot Reserva ($45) and the 2020 Malbec Bravo ($30), which, alone among the reds, undergoes no oak aging. They also have a 100 percent Malbec Rosé ($18.75) and a white blend called Corte Blanc ($30) they make from purchased marsanne, roussanne and sauvignon blanc.

More scores worth bragging about are likely forthcoming. Having been vaccinated and because he's an Argentine citizen, they were able to fly to Mendoza a few weeks ago to celebrate the 2021 harvest firsthand. Many believe it will produce some of the country's finest wines ever. Conditions during the recent growing season were perfect, meaning yields were high and the quality of the grapes excellent.
"We're very excited about the '21s," he said.
____________________________________________________________________


.